So, you've just received your new Water-to-Go bottle . . . Now what?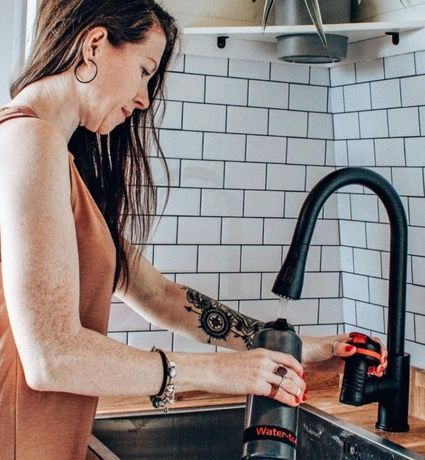 Activate it.
You must activate your filter before using it but this is very simple to do. The filter needs to be wet thoroughly to activate the electropositive filtration technology.
The first time you use a new filter, fill the bottle to submerge the filter and let it soak for 15 minutes.
Once you have done this, your filter will be activated and you will be ready to go.
If your bottle has not been used for a while and the filter is completely dry, reactivate using the same method.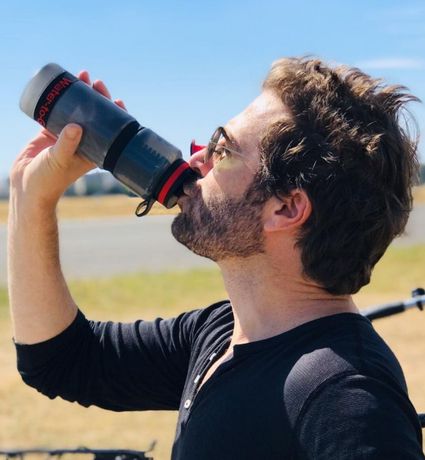 Tilt it.
Tilt the bottle back when you drink so the bottom faces the sky, and gently suck to pull the water through the filter.  This will maximize the flow rate. Gently suck to pull water through the filter. If you are not familiar with water purifier bottles, the flow rate will be slower than ordinary bottles. This means the filter is doing its job of catching unhealthy contaminants as you drink.
Twist it.
If you detect a leak, the lid probably needs to be tightened a bit. Give it a gentle extra twist. If you detect a leak from the lid, you are likely squeezing too hard and forcing water through the breather valve. Gentle squeeze only.
Re-use it. Your Water-to-Go bottle can be used over and over. One filter replaces 400 single-use plastic bottles.
Recycle it. 
Your new bottle is fully recyclable, as is the plastic shroud around the filter. The filter itself is compostable.
Here are answers to some frequently asked questions:
How does the bottle work? 

Water-to-Go bottles have a "Scoop-and Go" design that delivers pure water in seconds. Just fill, replace the lid snugly, and drink. The bottle filters water as you drink.  There is no need for chemicals, UV light, pumps or plungers.
What does Water-to-Go filter?

Water-to-Go's unique 3-in-1 filter offers extreme protection from water-borne illness, filtering illness-causing contaminants including those as small as a virus. In lab tests, the filter captured even the smallest of viruses like polio, which can be as small as .03 microns. In all, Water-to-Go filters viruses, bacteria, parasites (including giardia), chemicals, pesticides, heavy metals (lead, arsenic, chromium), and microplastics.  Water-to-Go has been proven in independent lab tests and by explorers who trust Water-to-Go on extreme adventures worldwide. 

What if I don't use the bottle for a while?

In general, filter life is determined by use, not time. So if your bottle sits on a shelf for months and the filter dries out, just reactivate the filter by filling the bottle to submerge the filter for 15 minutes. Without activating the filter, in the original packaging, the filter will have a shelf life of three years. The nanotechnology in the filter is activated by contact with water, so before initial use please keep your filter in a dry place.
How long does the filter last?

In general, you can fill up the bottle at a tap 2-3 times a day and the filter will last for 3 months.

Filters 200 liters/53 gallons depending on use. For example, if you are filtering water with heavy silt or sediment, filter life will decrease.
Replaces 400 single-use plastic bottles.
What is the bottle made of?

Water-to-Go Active and Classic bottles are made of FDA-approved BPA-free plastic. 

Water-to-Go Bioplastic bottles are made from ethically harvested sugarcane (except the lid and filter shroud). The sugarcane bottle is produced with 60% less energy and 40% less greenhouse gasses than regular plastic bottles. 

All Water-to-Go bottles are fully recyclable. The filter medium itself is compostable.
Can the bottles go in the dishwasher?  

Dishwasher safe: Active bottles, Bioplastic bottles, and Classic bottles

Not dishwasher safe: Go! 18oz/50cl bottle (now discontinued in US/Canada) and lid are hand wash only. 

In all cases, please remove the filter before cleaning. 

The filter is not designed to be flushed.
Is Water-to-Go new?

Water-to-Go is a twelve year old British company with over 500,000 happy customers around the globe. Water-to-Go's mission is to provide safe drinking water without single use plastics that damage the environment. To accomplish that we design, manufacture and distribute personal water purifier bottles that filter water-borne contaminants that can cause illness. We protect travelers, outdoor adventurers (hikers, campers, mountaineers, anglers), families concerned about the quality of tap water and those preparing for emergencies and natural disasters.

There are two things that make Water-to-Go different:

Better protection for people. Unlike most filter bottles, Water-to-Go filters dangerous viruses like hepatitis.
Better protection for the planet. In addition to a filter that replaces 400 plastic bottles, Water-to-Go offers the only bioplastic water filter bottle, made from sugarcane. Plastic from plants, not petroleum!  We are in the process of moving all our bottles to bioplastic. 
From all of us at Water-to-Go, thank you for your purchase. We wish you healthy adventures far and near.